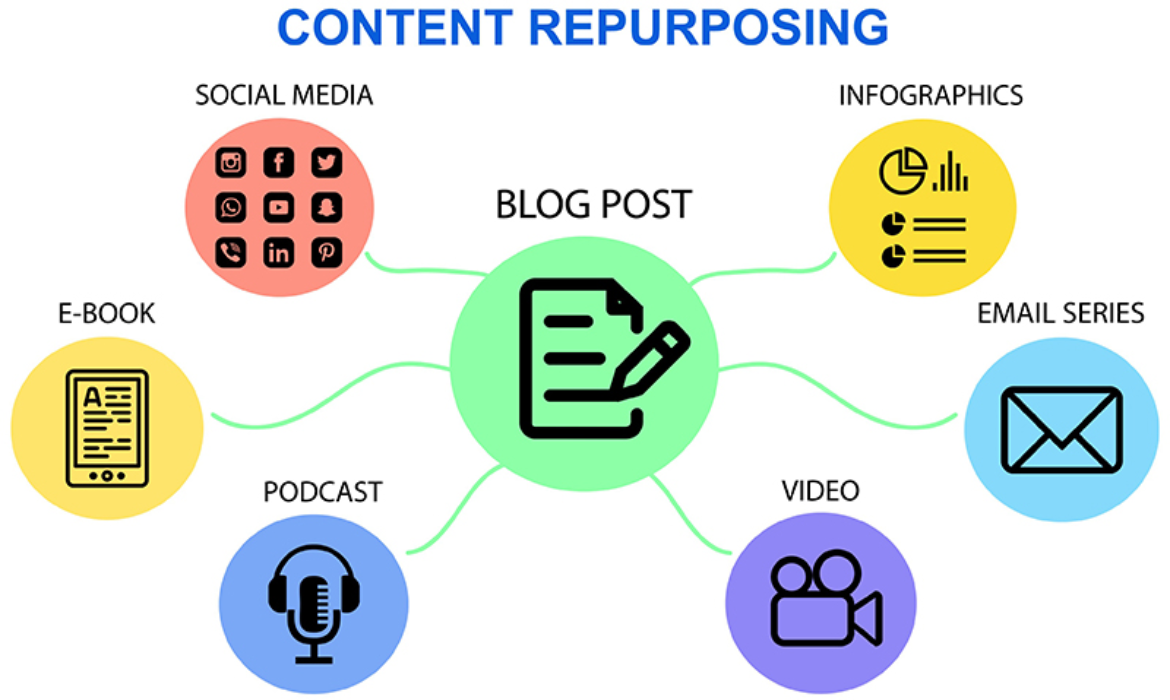 In this comprehensive guide, we will delve into the art and science of repurposing content to supercharge your online presence. While we understand that there are various factors affecting search rankings, our focus here is to provide you with the most valuable insights on repurposing content, so you can rise above the competition and claim the top spot on Google.

The Power of Repurposing Content
Repurposing content is a strategic approach that can significantly enhance your online visibility and SEO rankings. It involves taking existing content and adapting it into different formats or for various platforms. This approach not only saves time but also maximizes the value of your content.
Also Check Boosting Domain Authority and Dominating Search Rankings 2023
Why Repurpose Content?
Repurposing content offers several benefits:
Diverse Content Types: By repurposing content, you can create diverse content types, including blog posts, infographics, videos, podcasts, and more. This caters to a broader audience with varying preferences.
Improved SEO: Search engines favor fresh, relevant content. By repurposing and updating existing content, you keep your website active and appealing to search engine algorithms.
Extended Reach: Different platforms have different user bases. Repurposing content allows you to reach new audiences across various channels, such as social media, YouTube, or industry-specific forums.
Establishing Authority: Consistently providing valuable information across multiple formats establishes you as an authority in your niche.

The Repurposing Content Process
Now, let's break down the steps to effectively repurpose your content and dominate the search results:
1. Content Audit
Begin by conducting a thorough content audit. Identify your top-performing pieces, evergreen topics, and content that needs updating. This will serve as your foundation for repurposing.
2. Choose Your Formats
Diversify your content by choosing suitable formats. Consider turning a well-performing blog post into an engaging video tutorial, an infographic summarizing key points, or a podcast discussing the topic in depth.
3. Optimize for Each Platform
Tailor your repurposed content to the platform you're using. For instance, when repurposing for social media, craft catchy headlines and engaging visuals. On YouTube, optimize video descriptions and tags for SEO.
4. Keep It Fresh
Always update and refresh your repurposed content. Ensure that statistics, facts, and links are current. This signals to search engines that your content is up-to-date and relevant.
5. Cross-Promotion
Promote your repurposed content across all your channels. Share videos on social media, embed podcasts in relevant blog posts, and cross-reference content to maximize visibility.
Measuring Success
Measuring the impact of your repurposed content is crucial for refining your strategy. Utilize tools like Google Analytics to track changes in traffic, engagement, and conversions. Monitor keyword rankings to ensure your efforts are paying off.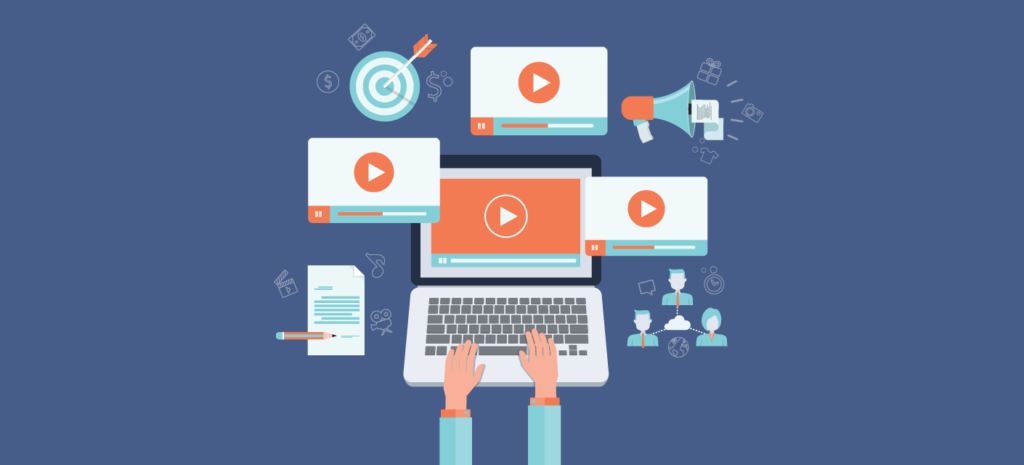 Leveraging Keywords for Repurposing
Effective repurposing involves strategically using keywords to maintain SEO relevance. Here's how you can do it:
1. Keyword Research
Before repurposing, conduct thorough keyword research to understand what your target audience is searching for. Tools like Google Keyword Planner and SEMrush can help identify relevant keywords and phrases.
2. Incorporate Keywords
Ensure that your repurposed content naturally incorporates these keywords. Use them in headings, subheadings, and throughout the content, but avoid overstuffing. Keyword placement should always enhance the readability of your content.
3. Optimize Meta Data
Don't forget to optimize meta titles and descriptions. These elements play a significant role in click-through rates and SEO. Craft compelling meta titles that include your target keywords and provide a brief but enticing description of your content.
4. Internal Linking
Internal linking is a powerful SEO strategy. When repurposing content, identify opportunities to link to other relevant pages on your website. This not only improves user experience but also helps distribute link equity throughout your site.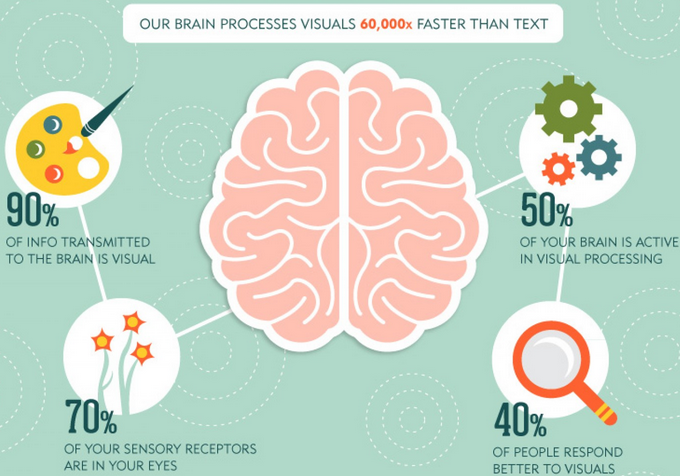 The Importance of Visual Content
In the digital landscape, visuals are essential. Incorporating images, infographics, and videos into your repurposed content can greatly enhance its appeal. Visual content not only makes your content more engaging but also contributes to SEO.
1. Image Optimization
When using images, ensure they are appropriately sized and optimized for web performance. Compress images to reduce load times and use descriptive alt text to improve accessibility and SEO.
2. Infographics
Create informative infographics summarizing key points from your content. Share them on platforms like Pinterest and include them within your articles. Infographics are highly shareable, increasing your content's reach.
3. Video Integration
YouTube is the second-largest search engine globally. Convert your repurposed content into engaging videos and publish them on your YouTube channel. Optimize video titles, descriptions, and tags with relevant keywords for maximum exposure.

Mobile Optimization
Mobile optimization is no longer optional; it's a necessity for SEO success. Ensure that your repurposed content is mobile-responsive to cater to the growing number of mobile users.
1. Responsive Design
Choose website themes and templates that are mobile-responsive. Test your content across various devices to guarantee a seamless user experience.
2. Page Speed
Page speed is a critical ranking factor. Compress images, use browser caching, and minimize JavaScript to improve loading times, both on desktop and mobile devices.
User Experience and SEO
User experience (UX) plays a vital role in SEO. Google rewards websites that provide excellent user experiences.
1. Readability
Ensure that your repurposed content is easy to read. Use short paragraphs, bullet points, and headings to break up text. This not only enhances SEO but also keeps users engaged.
2. Mobile-Friendly Navigation
Simplify navigation on your mobile site. Use easily accessible menus and optimize your site's structure for mobile users.
Incorporating these SEO strategies into your repurposing efforts will help you outrank competitors and establish your brand as an authority in your niche. Remember, SEO is an ongoing process, so consistently monitor your performance, adapt to algorithm changes, and refine your strategy to maintain your dominance in the search rankings.
By following these advanced SEO techniques and staying ahead of the curve, you're on the path to SEO success. Keep optimizing, and watch your website rise to the top of Google's search results.

Here's a FAQ (Frequently Asked Questions) section to address common queries related to content repurposing and SEO:

Q1: What is content repurposing, and why is it important for SEO?
A1: Content repurposing is the practice of taking existing content and adapting it into different formats or for various platforms. It is crucial for SEO because it allows you to maximize the value of your content, reach a broader audience, and signal to search engines that your content is up-to-date and relevant.
Q2: How does content repurposing help improve search rankings?
A2: Content repurposing improves search rankings by diversifying your content across various formats and platforms, appealing to different audience preferences. It keeps your website active, enhances user engagement, and increases your chances of ranking well on search engine results pages (SERPs).
Q3: What types of content can be repurposed?
A3: Virtually any type of content can be repurposed. Common examples include blog posts, videos, podcasts, infographics, webinars, and social media posts. The key is to adapt the content to suit the medium and audience.
Q4: How do I choose the right formats for repurposing?
A4: Select formats based on your target audience and the nature of your content. For instance, if you have a data-rich blog post, consider creating an informative infographic. If your content is instructional, transform it into a video tutorial. Understand your audience's preferences and adapt accordingly.
Q5: Can repurposed content negatively affect SEO?
A5: Repurposed content should not negatively affect SEO if done correctly. Always ensure that repurposed content is unique and valuable in its own right. Avoid duplicate content issues by updating and customizing content for each platform or format.
Q6: How can I measure the success of my repurposed content?
A6: Use tools like Google Analytics to track changes in traffic, engagement, and conversions. Monitor keyword rankings for repurposed content to gauge its impact on SEO. Additionally, assess social shares, comments, and backlinks to evaluate its overall success.
Q7: Is keyword optimization important for repurposed content?
A7: Yes, keyword optimization is crucial for repurposed content. Conduct keyword research to identify relevant keywords and incorporate them naturally into your content. Optimize meta titles and descriptions, headings, and subheadings with target keywords for SEO benefits.
Q8: How can I make my repurposed content mobile-friendly?
A8: To make repurposed content mobile-friendly, choose responsive website themes, ensure images are appropriately sized and compressed, and minimize JavaScript. Test your content across various mobile devices to guarantee a seamless user experience.
Q9: Are there any best practices for improving user experience (UX) in repurposed content?
A9: Yes, for enhanced UX, use short paragraphs, bullet points, and headings to break up text. Simplify navigation on your mobile site, ensuring menus are easily accessible. A positive UX can boost SEO rankings by keeping users engaged and satisfied.
Q10: Is content repurposing a one-time effort, or should it be an ongoing strategy?
A10: Content repurposing should be an ongoing strategy. Regularly review and update your existing content to keep it relevant and maximize its value. Continuously adapt to changing trends and audience preferences to maintain SEO success.
These FAQs provide insights into content repurposing and its significance in SEO. If you have any further questions or need personalized advice, feel free to reach out to our team of SEO experts.
Related Posts