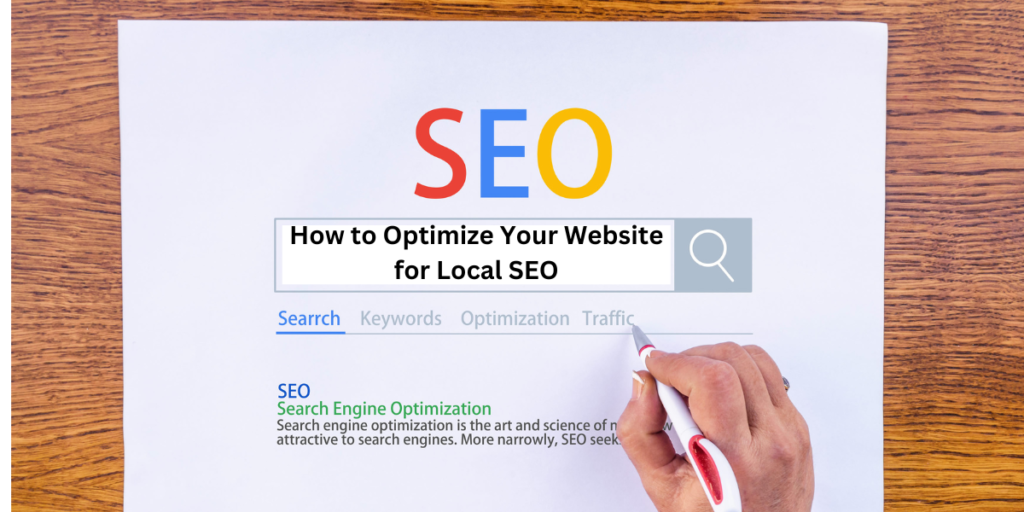 Optimizing your website for local SEO is crucial if you own a business and want to draw in local clients. Local SEO raises the position of your website in local search engine results pages (SERPs) for queries pertaining to your company or sector. Here are some recommendations for improving your website's local SEO:
Employ Local Keywords: Include names of your city, town, or area, as well as adjacent landmarks, as local keywords on your website. Use these keywords in the text, headings, page names, and meta descriptions of your website.
Improve Your Google My Business Listing: Google My Business is a free tool that you can use to maintain your company's Google listing. A complete Google My Business listing should have correct information about your company's name, address, phone number, website, operating hours, and images.
Create Local Citations: Local blogs, review websites, and business directories all contain references to your company. Developing local citations can increase the prominence of your website in local search results. Make sure the information about your company is consistent across
Obtain Reviews: Get your clients to evaluate your company on Yelp, Google My Business, and other review sites. Good evaluations will assist establish your website's trust with potential clients and increase its exposure in local search results.
Develop Local Content: Provide material that is pertinent to your neighbourhood. This can involve writing blog articles, making films, and posting on social media that highlight nearby events, landmarks, and news pertinent to your sector.
Utilize Schema Markup: Schema markup is a coding that aids in the better understanding of your website's content by search engines. To make it easier for search engines to grasp your company's name, address, phone number, and other crucial details, use local business schema markup.
Make sure your website is mobile-friendly and simple to use on mobile devices by performing mobile optimization. This is crucial because a lot of local searches are made using mobile devices.
Enhance Website Speed: Search engines, such as Google, consider website speed when determining rankings. Your website's ranking in search results may suffer if it is too slow. Reduce picture sizes, compress data, and use a caching plugin to make sure your website is speed-optimized.
Use local backlinks: A backlink is a link that leads to your website from another website. Local backlinks from other companies or groups in your neighbourhood can benefit the local SEO of your website. Get local companies or groups to link to your website by contacting them.
Use tools like Google Analytics and Google Search Console to track the local SEO success of your website. These tools can be used to track your website's position in local search results, pinpoint problem areas, and gauge the effectiveness of your local SEO campaigns.
Conclusion
optimizing your website for local SEO can help your business attract more local customers and improve your website's visibility in local search results. By using local keywords, optimizing your Google My Business listing, building local citations, getting reviews, creating local content, using schema markup, and optimizing your website for mobile devices, you can improve your website's local SEO and attract more local customers.
Related Posts