In today's digital landscape, optimizing your WordPress website for search engines is imperative to achieve top rankings on Google. At Finest SEO Agency, we understand the critical importance of effective SEO strategies that enable your content to outshine competitors and attract organic traffic. Our team of experts has compiled a comprehensive guide to help you achieve unparalleled success in WordPress SEO.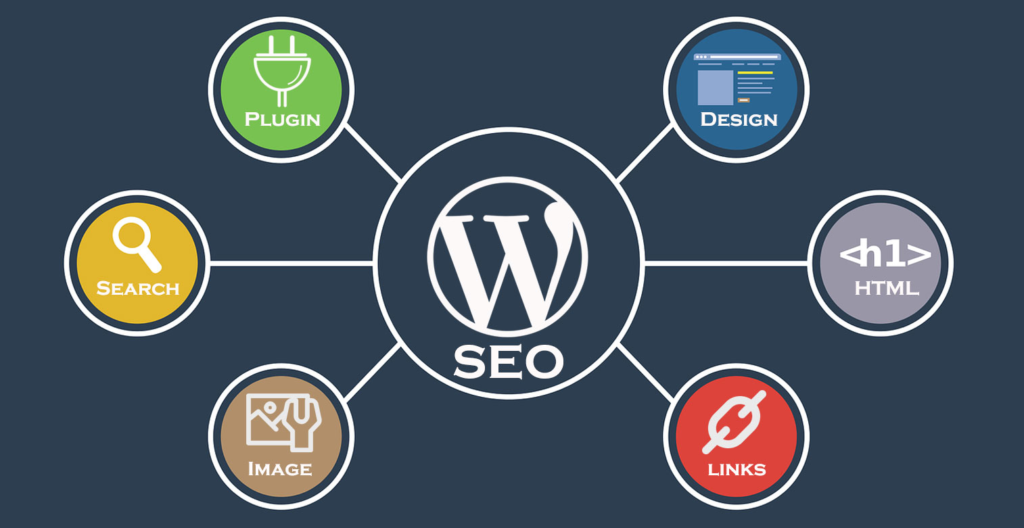 Introduction
In the ever-evolving realm of online visibility, WordPress remains a powerful platform for building websites, but to truly outperform your competitors, your SEO game must be impeccable. This guide delves into advanced strategies and techniques that can propel your WordPress site to the forefront of search engine results pages (SERPs), leaving your competitors in the dust.
Also Check The Psychology of User Intent in SEO: Crafting Exceptional Online Experiences 2023
Keyword Research: The Foundation of SEO Excellence
Conducting thorough keyword research is the first step towards SEO dominance. Utilize premium keyword research tools such as SEMrush, Ahrefs, or Moz to identify high-traffic, low-competition keywords relevant to your niche. Long-tail keywords are often the key to unlocking targeted traffic and outranking competitors. Develop a comprehensive list of these keywords to form the basis of your content strategy.
Technical Excellence: A Fast and Responsive Website
A seamless user experience is paramount for search engines and visitors alike. Ensure your WordPress website is optimized for speed and responsiveness. Minimize HTTP requests, leverage browser caching, and compress images without compromising quality. Implement a responsive design that adapts flawlessly to various screen sizes, enhancing user engagement and dwell time – factors Google values highly in its ranking algorithm.

On-Page Optimization: Crafting Compelling Content
Creating high-quality, valuable content is the cornerstone of any successful SEO campaign. Develop detailed, informative articles that comprehensively cover your chosen topics. Incorporate your target keywords naturally within the content, paying attention to headings, subheadings, and the meta description. Aim to solve users' problems and provide actionable insights, positioning your content as an authoritative resource.
Backlink Strategy: Quality over Quantity
Backlinks from authoritative websites are like gold in the SEO world. Focus on acquiring high-quality, relevant backlinks that bolster your website's credibility. Collaborate with influencers, guest post on reputable blogs, and explore broken link building opportunities within your niche. A well-rounded backlink profile can significantly contribute to your site's ability to outrank competitors.
User Engagement and Dwell Time
Google interprets user engagement as a signal of content relevance and quality. Keep visitors on your site longer by structuring your content for readability – short paragraphs, bullet points, and engaging visuals. Encourage social sharing and comments to foster a sense of community. Engaged users are more likely to convert and contribute positively to your site's bounce rate and dwell time metrics.
Mobile Optimization: Capturing On-the-Go Traffic
With the majority of online searches occurring on mobile devices, optimizing your WordPress site for mobile is non-negotiable. Utilize responsive design principles, minimize intrusive interstitials, and ensure all interactive elements are easily accessible on mobile screens. Google's mobile-first indexing approach underscores the significance of this aspect for outranking competitors.
Rich Snippets and Schema Markup
Enhance your content's visibility and click-through rates by incorporating rich snippets and schema markup. These structured data formats provide search engines with detailed information about your content, allowing them to display compelling snippets in search results. Utilize tools like Google's Structured Data Markup Helper to implement schema markup effectively.

Analyzing WordPress SEO Strategies for Unbeatable Rankings
In the fiercely competitive digital landscape, mastering WordPress SEO strategies is essential for securing top rankings on Google. At [Your Company Name], our team of seasoned SEO professionals is dedicated to providing you with insights that go beyond the ordinary. In this comprehensive guide, we reveal advanced tactics that can give your WordPress website the edge it needs to outrank even the toughest competitors.
Unveiling Advanced WordPress SEO Strategies
In the dynamic world of SEO, a well-rounded strategy is pivotal to ensuring your WordPress website doesn't just blend in but excels. This guide delves into cutting-edge techniques and meticulous approaches that can catapult your site to the summit of search engine result pages (SERPs), leaving your competitors struggling to catch up.
The Power of Semantic Keywords
Keyword research goes beyond just finding relevant terms; it's about understanding user intent and crafting content that fulfills those intentions. Leverage semantic keywords to create comprehensive, user-focused content that addresses a range of related topics. This approach not only satisfies search engines but also positions your site as an authoritative resource in your industry.
Advanced Technical Optimization
Striving for technical excellence is a hallmark of successful WordPress SEO. Auditing your site's technical elements, such as crawl budget allocation, XML sitemaps, and structured data, can significantly impact your rankings. Create a strategic roadmap to address technical issues promptly and systematically, ensuring your website provides an exceptional user experience across all devices.
Crafting Pillar Content for Dominance
Pillar content is the backbone of an authoritative website. Develop comprehensive, cornerstone pieces that cover broad topics in depth. Support these pillars with a network of related articles, creating a content cluster that establishes your site's expertise. This interconnected approach not only boosts SEO but also encourages users to explore your content further.
Harnessing the Potential of Video SEO
Incorporating videos into your content strategy can give you a unique advantage. Leverage video SEO by optimizing video titles, descriptions, and tags with relevant keywords. Host videos on your own server to drive traffic directly to your site and enhance user engagement. Videos provide an immersive experience that can captivate your audience and reduce bounce rates.
Voice Search Optimization
With the rise of voice-activated devices, optimizing for voice search is paramount. Craft conversational, long-tail keyword phrases that mirror natural language queries. FAQ pages can be a goldmine for voice search optimization, as they often provide concise answers to common questions. By addressing voice search queries, you position your content for featured snippets, enhancing your chances of outranking competitors.
Establishing E-A-T and Building Trust
Google places a premium on expertise, authoritativeness, and trustworthiness (E-A-T). Showcase your industry expertise by crafting detailed author profiles, complete with credentials and relevant experience. Curate high-quality, well-researched content that cites authoritative sources. Foster user trust by implementing SSL certificates, displaying customer reviews, and showcasing industry awards.

The Art of Semantic Keyword Mastery
Keyword research isn't merely about identifying words; it's about deciphering user intent and crafting content that satiates those intentions. Harness semantic keywords to craft comprehensive, user-centric content that addresses a spectrum of related themes. This technique not only appeases search engines but also positions your website as a haven of expertise within your industry.
Elevating Technical Prowess
Striving for technical excellence is the hallmark of triumphant WordPress SEO. Conduct a rigorous audit of your site's technical facets—crawl budget allocation, XML sitemaps, and structured data—to wield substantial influence over your rankings. Construct a strategic roadmap to deftly address technical intricacies, ensuring your website delivers an exceptional user experience across diverse devices.
Forging Pillar Content for Dominance
Pillar content forms the bedrock of an authoritative website. Craft comprehensive cornerstone pieces that delve profoundly into broad subjects. Bolster these pillars with an intricate network of interlinked articles, forming a content cluster that solidifies your website's mastery. This approach not only heightens SEO potential but also beckons users to delve deeper into your offerings.
Unveiling the Potential of Video SEO
Incorporating videos into your content arsenal bestows a unique advantage. Employ video SEO to optimize titles, descriptions, and tags with pertinent keywords. Hosting videos on your server channels traffic directly to your website, amplifying user engagement. Videos offer an immersive experience that captures your audience, effectively diminishing bounce rates.
Conquering Voice Search Optimization
As voice-activated devices surge in popularity, catering to voice search is imperative. Craft colloquial, long-tail keyword phrases that mirror natural language queries. FAQ pages emerge as a treasure trove for voice search optimization, as they succinctly answer common questions. Addressing voice search queries situates your content for featured snippets, significantly enhancing chances of outclassing competitors.
Establishing E-A-T and Fostering Trust
Expertise, authoritativeness, and trustworthiness (E-A-T) are Google's cornerstones. Flaunt industry expertise through elaborate author profiles, replete with credentials and relevant experiences. Curate premium, extensively researched content with citations from authoritative sources. Cultivate user trust by integrating SSL certificates, showcasing customer reviews, and displaying industry accolades.
Conclusion: Forging Your SEO Triumph
In the race for Google's zenith, an innovative and multifaceted approach to WordPress SEO is paramount. By assimilating semantic keywords, mastering technical prowess, erecting pillar content, and embracing emerging frontiers like video SEO and voice search, you position your website as an indomitable force in the digital domain. This is but a waypoint—the odyssey continues with perpetual analysis and evolution, ensuring your reign over search engine algorithms. Emerge as a paragon of WordPress prowess, eclipsing competitors and claiming your throne as a vanguard in your industry.

Frequently Asked Questions about WordPress SEO Mastery
Welcome to the FAQ section of our comprehensive guide on mastering WordPress SEO to outrank competitors. Here, we address common inquiries to provide you with clarity and actionable insights. Let's delve into these frequently asked questions and equip you with the knowledge you need to conquer the world of SEO.
1. What is WordPress SEO, and why is it important?
WordPress SEO refers to the practice of optimizing your WordPress website to improve its visibility on search engines like Google. It's crucial because higher visibility leads to increased organic traffic, which can ultimately drive more conversions and business growth.
2. How do semantic keywords differ from regular keywords?
While regular keywords focus on specific terms, semantic keywords consider the context and user intent behind those terms. They capture the natural language that users use in search queries, allowing you to create content that better matches their needs.
3. What role does technical optimization play in SEO?
Technical optimization ensures that your website is accessible, fast, and user-friendly. It includes aspects like improving site speed, using proper HTML tags, creating an XML sitemap, and implementing structured data. These factors impact both user experience and search engine rankings.
4. Can you explain the concept of pillar content?
Pillar content involves creating comprehensive, cornerstone pieces that cover broad topics extensively. These pieces are supported by related articles, forming a content cluster. This approach not only demonstrates your expertise but also improves internal linking and SEO.
5. How does video SEO contribute to better rankings?
Video SEO involves optimizing videos for search engines. By using relevant keywords in titles, descriptions, and tags, and hosting videos on your website, you can improve your chances of ranking high on both video platforms and regular search results.
6. Why is voice search optimization important?
With the rise of voice-activated devices, optimizing for voice search is crucial. Voice queries tend to be more conversational and longer, requiring you to craft content that addresses these natural language queries. This optimization can help you secure featured snippets and gain a competitive edge.
7. How can I establish E-A-T (Expertise, Authoritativeness, Trustworthiness)?
To establish E-A-T, showcase your expertise through author profiles with credentials, write high-quality content that cites reputable sources, and foster trust by using SSL certificates, displaying customer reviews, and highlighting industry awards. Google values these factors when assessing a website's quality.
8. What tools can I use to monitor my website's performance?
Tools like Google Analytics and Google Search Console are invaluable for monitoring your website's performance. Google Analytics provides insights into user behavior, traffic sources, and more, while Google Search Console offers data on search visibility, indexing issues, and keyword performance.
9. Is SEO a one-time effort, or do I need to continuously work on it?
SEO is an ongoing process. Search engines update their algorithms, competitors adapt, and user behavior changes. To maintain your rankings and stay ahead of competitors, you need to regularly analyze your performance, adapt your strategies, and stay informed about industry trends.
10. Can I implement all these strategies myself, or should I seek professional help?
While it's possible to implement these strategies on your own, the complexities of SEO can be overwhelming. Working with experienced SEO professionals can provide you with expert guidance, save time, and ensure that your efforts are aligned with the latest industry best practices.
We hope these answers have shed light on your questions about mastering WordPress SEO. Feel free to explore our guide further to gain a deeper understanding of these strategies and their implementation.
Related Posts