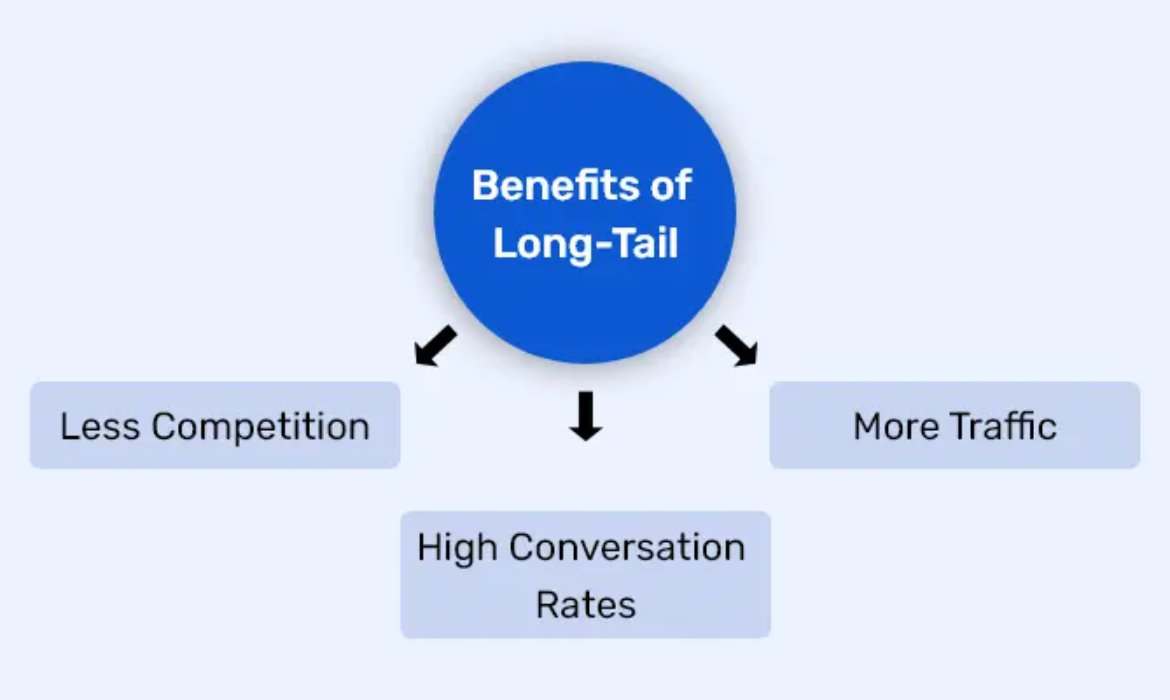 In the ever-evolving landscape of digital marketing, Search Engine Optimization (SEO) continues to be the bedrock of online visibility and success. The strategic utilization of keywords remains at the heart of effective SEO practices. While many are familiar with traditional keywords, today, we delve into a more nuanced aspect of this practice – the often overlooked yet immensely powerful, long-tail keywords.

Understanding Long-Tail Keywords: A Paradigm Shift in SEO Strategy
Long-tail keywords, unlike their generic counterparts, are longer and more specific phrases that hold the potential to transform your SEO game. Instead of focusing solely on high-volume single keywords, integrating long-tail keywords into your content strategy opens up a world of opportunities. Let's explore the unique advantages that set long-tail keywords apart.
Also Check Mastering Meta Tags: Elevate Click-Through Rates and SEO Success 2023
1. Pinpoint Relevance and High-Quality Traffic
Long-tail keywords are a gateway to attracting precisely the audience you intend to target. By incorporating specific terms or phrases that closely align with your products or services, you not only improve your chances of ranking but also ensure that the traffic driven to your site is genuinely interested in what you offer. This translates to higher conversion rates and a more engaged audience.
2. Lower Competition, Higher Visibility
In the vast digital landscape, competition for generic keywords can be fierce. However, long-tail keywords often have significantly lower competition, giving your content a better chance to shine amidst the noise. With fewer websites vying for the same keywords, your content can rise to the top of search engine results pages (SERPs), gaining the visibility it deserves.
3. Enhanced Authority and Expertise
Crafting content around long-tail keywords allows you to delve deep into specific topics, showcasing your authority and expertise in your niche. As search engines increasingly prioritize relevance and user intent, your comprehensive and informative content positions you as a reliable source of information, bolstering your brand's credibility.
4. Catering to Voice Search and Natural Language Queries
With the rise of voice-activated assistants and natural language processing, long-tail keywords seamlessly integrate into the way people search online. These phrases often mirror how users ask questions verbally, making your content more likely to appear as a relevant result for voice searches, which are steadily becoming the norm.

5. Nurturing the Buyer's Journey
Long-tail keywords play a pivotal role in guiding users along the buyer's journey. These phrases often indicate a specific intent, whether it's research, comparison, or purchase. By addressing these varied intents through your content, you create a seamless path for potential customers, nurturing them from initial curiosity to conversion.
6. Crafting Compelling Content with Long-Tail Keywords
Creating content that seamlessly integrates long-tail keywords requires a delicate balance between optimization and value delivery. Here's how to master this art:
a. Thorough Keyword Research
Begin by identifying long-tail keywords that align with your target audience's interests and search intent. Tools like Google Keyword Planner, SEMrush, and Ahrefs can provide invaluable insights into keyword variations and search volume. Choose keywords that strike a balance between relevance and search volume.
b. Natural Integration
Once you've selected your long-tail keywords, it's essential to incorporate them organically into your content. Avoid keyword stuffing, as it not only hampers readability but can also lead to penalties from search engines. Focus on crafting informative, engaging content that naturally includes the chosen keywords.
c. Comprehensive Content Creation
Long-tail keywords often reflect specific user queries. To cater to these queries effectively, create comprehensive content that answers the user's questions thoroughly. This not only satisfies the user's intent but also signals to search engines that your content is valuable and relevant.
d. Structured Formatting
Organize your content using well-defined headings and subheadings that mirror the structure of your long-tail keywords. This enhances the readability of your content and makes it more accessible to both users and search engine crawlers.
e. Visual Enhancements
Supplement your content with relevant images, diagrams, and infographics. Visual aids not only break up the text but also offer an additional opportunity to incorporate descriptive alt text that includes your long-tail keywords.

7. Monitoring and Refinement
The landscape of SEO is dynamic, and staying ahead requires constant monitoring and adjustment. Regularly analyze the performance of your content using tools like Google Analytics and Google Search Console. Keep an eye on rankings, click-through rates, and user engagement metrics.
8. Embracing Long-Tail Keywords: Your Competitive Edge
In a realm where every click matters, the strategic incorporation of long-tail keywords can be the differentiator that propels your content to the top. By understanding the unique benefits they bring and executing a comprehensive content strategy, you position yourself not only to outrank your competitors but also to provide immense value to your audience.
Final Thoughts
Long-tail keywords are a treasure trove of opportunities waiting to be harnessed. Their ability to connect you with a targeted audience, enhance your authority, and guide users through their journey underscores their significance in modern SEO. So, embark on this journey armed with insights, strategies, and the commitment to deliver content that stands out. Embrace the power of long-tail keywords, and watch your content ascend the ranks, establishing your brand as a leader in the digital realm.

Frequently Asked Questions (FAQ) – Unleashing the Power of Long-Tail Keywords in SEO

1. What are long-tail keywords?
Long-tail keywords are specific and often longer phrases that users enter into search engines when seeking information, products, or services. They are more targeted than generic keywords and reflect a user's specific intent.
2. How do long-tail keywords differ from traditional keywords?
Traditional keywords are shorter and more general, while long-tail keywords are longer, more specific, and cater to niche topics. Long-tail keywords offer a better opportunity to connect with a highly relevant audience.
3. Why should I use long-tail keywords in my SEO strategy?
Long-tail keywords offer several advantages, including higher relevance, lower competition, enhanced authority, better alignment with voice search, and the ability to cater to various stages of the buyer's journey.
4. How do I find the right long-tail keywords for my content?
Conduct thorough keyword research using tools like Google Keyword Planner, SEMrush, or Ahrefs. Look for keywords that align with your content and have a reasonable search volume.
5. How do I integrate long-tail keywords into my content?
Integrate long-tail keywords naturally into your content. Avoid keyword stuffing, and focus on delivering valuable information that addresses user queries.
6. What is the significance of user intent in using long-tail keywords?
Long-tail keywords often reflect user intent more accurately. By aligning your content with user intent, you can provide more relevant answers and improve engagement.
7. Can long-tail keywords enhance my brand's authority?
Yes, crafting detailed and informative content around long-tail keywords can showcase your brand's expertise in a specific niche, thereby enhancing your brand's authority and credibility.
8. How do long-tail keywords cater to voice search and natural language queries?
Long-tail keywords often mirror how people ask questions verbally. By using these phrases, your content becomes more likely to appear in voice search results, capturing this growing segment of users.
9. Is it necessary to create separate content for each long-tail keyword?
No, you can incorporate related long-tail keywords within the same piece of content. This approach allows you to cover a broader range of user queries and keeps your content focused.
10. How can I measure the success of my long-tail keyword strategy?
Use tools like Google Analytics and Google Search Console to monitor your content's performance. Track metrics such as rankings, click-through rates, and user engagement to gauge the effectiveness of your strategy.
11. Can I use long-tail keywords for e-commerce websites?
Absolutely. Long-tail keywords can be particularly effective for e-commerce sites, as they target specific product names, features, or use cases, attracting users with a higher likelihood of making a purchase.
12. Is it possible to overuse long-tail keywords in my content?
Yes, overusing long-tail keywords can lead to keyword stuffing, which negatively impacts readability and SEO. Focus on creating valuable content that uses keywords naturally and contextually.
13. Are long-tail keywords suitable for all industries?
Yes, long-tail keywords can be effective across various industries. They cater to specific user needs, making them adaptable to different niches and topics.
14. How frequently should I update my content with new long-tail keywords?
Regularly review and update your content strategy with new long-tail keywords based on evolving trends and user queries. However, ensure that the updates maintain the quality and relevance of your content.
15. Can I incorporate long-tail keywords into my meta tags and descriptions?
Yes, using long-tail keywords in your meta tags and descriptions can enhance the visibility and relevance of your content in search engine results.
Related Posts