In the realm of search engine optimization (SEO), it is vital to understand the nuances between local and global SEO. These two distinct approaches hold the power to enhance online visibility, attract organic traffic, and drive success for businesses. In this comprehensive guide, we will delve into the intricacies of local SEO and global SEO, shedding light on their unique characteristics, strategies, and best practices. By adopting these insights, you can propel your website's rankings to new heights and outshine competitors.
Understanding Local SEO
Defining Local SEO
Local SEO is a targeted optimization technique aimed at improving a website's visibility within a specific geographical area. It focuses on attracting relevant traffic from local searches and is particularly valuable for brick-and-mortar businesses or those serving specific regions. The ultimate goal of local SEO is to ensure that potential customers in the vicinity discover your business when searching for related products or services.
Key Components of Local SEO
1. Google My Business (GMB) Listing
A crucial step in local SEO is to claim and optimize your Google My Business listing. This free tool provided by Google enables businesses to showcase important information, such as contact details, opening hours, reviews, and even images. Optimizing your GMB listing improves your chances of appearing in the local pack (the prominent listing of businesses on Google Maps) and generates trust among local customers.
2. Location-Based Keyword Targeting
To enhance your local SEO efforts, it is essential to incorporate location-specific keywords throughout your website's content. Conduct thorough keyword research to identify relevant terms that align with your target audience's search queries. By strategically placing these keywords in your titles, headings, meta descriptions, and content, you can signal to search engines that your website is relevant to local searches.
3. Local Citations and Online Directories
Building citations, which are mentions of your business name, address, and phone number (NAP), across various online directories can significantly impact local SEO. These citations validate your business's existence and credibility to search engines. Ensure that your NAP information is consistent and accurate across all platforms, including directories, social media profiles, and your website.
4. Online Reviews and Ratings
Positive online reviews and ratings can greatly influence local SEO rankings. Encourage satisfied customers to leave reviews on platforms such as Google, Yelp, and industry-specific review websites. These reviews act as social proof, demonstrating the quality and reliability of your products or services. Engage with customers, respond to reviews (both positive and negative), and address concerns promptly to establish a positive online reputation.
Implementing Effective Local SEO Strategies
1. Targeted Local Content
Crafting high-quality, location-specific content is crucial for local SEO success. Develop blog posts, articles, or landing pages that address local topics, events, or trends. By tailoring your content to the interests and needs of your local audience, you can establish yourself as an authoritative source while attracting relevant organic traffic.
2. Local Link Building
Building a strong network of local backlinks can significantly boost your local SEO efforts. Seek opportunities to collaborate with other local businesses, participate in community events, or sponsor local charities. These endeavors can result in valuable backlinks from authoritative local websites, enhancing your website's credibility and visibility within the local search landscape.
3. Mobile Optimization
Given the rise of mobile device usage, optimizing your website for mobile is paramount for local SEO. Ensure your website loads quickly, has a responsive design, and provides a seamless user experience across various mobile devices. Mobile-friendly websites tend to rank higher in local search results, as they cater to the preferences of users on the go.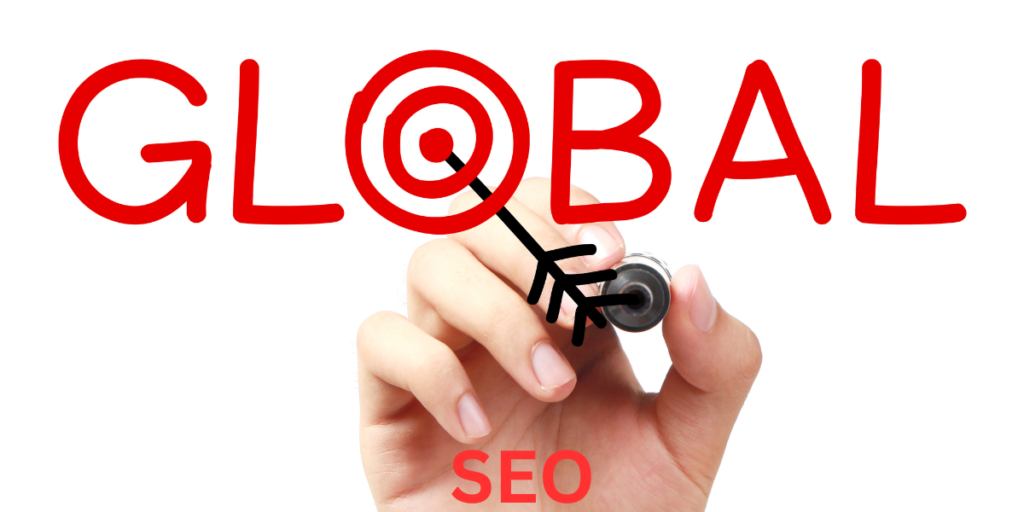 Unveiling Global SEO
While local SEO focuses on a specific geographic area, global SEO aims to enhance a website's visibility on a global scale. It involves optimizing your online presence to attract organic traffic from users worldwide, expanding your reach beyond regional boundaries. Global SEO is particularly relevant for e-commerce businesses, multinational corporations, or those targeting a broad international audience.
Key Components of Global SEO
1. Multilingual Keyword Research
To effectively target global audiences, it is essential to conduct extensive multilingual keyword research. Identify keywords and search phrases that are relevant to your target markets in different languages. Consider linguistic and cultural nuances to ensure accurate and optimized content that resonates with users across various regions.
2. International Website Structure
To optimize your website for global SEO, consider implementing a logical and intuitive structure that caters to users from different countries. Consider using subdirectories (e.g., example.com/fr/) or subdomains (e.g., fr.example.com) to separate and target specific language or country versions of your website. Implement hreflang tags to indicate language and regional targeting to search engines.
3. Geotargeting and Language Targeting
Leverage geotargeting and language targeting options provided by search engines, such as Google. These tools allow you to specify which countries and languages you wish to target, ensuring your website appears in relevant search results. It is important to configure these settings accurately to maximize your website's visibility to the intended audience.
4. International Backlink Building
Building authoritative backlinks from websites in various countries is essential for global SEO success. Seek opportunities for guest blogging, collaborations, or partnerships with international influencers or industry leaders. These backlinks will signal to search engines that your website is trusted and valued across different regions, contributing to improved global search rankings.
Implementing Effective Global SEO Strategies
1. Translation and Localization
Investing in professional translation and localization services is crucial for global SEO. Ensure that your website's content, including product descriptions, blog posts, and meta information, is accurately translated into the target languages. Localization involves adapting the content to suit the cultural, linguistic, and regional preferences of each target market, creating a personalized and engaging experience for users.
2. International Content Marketing
Developing a comprehensive international content marketing strategy is vital for global SEO success. Create high-quality, localized content that resonates with users in different regions. This can include region-specific articles, case studies, or guides that address the unique needs and interests of your global audience. Promote this content through targeted outreach and social media channels to attract organic traffic from diverse regions.
3. User Experience Optimization
Delivering an exceptional user experience is paramount for global SEO. Ensure that your website is fast-loading, user-friendly, and compatible with different devices and browsers. Optimize your website's navigation, implementing clear calls-to-action and intuitive menus to facilitate easy exploration. A positive user experience enhances engagement, reduces bounce rates, and signals to search engines that your website is valuable and relevant.
Conclusion
mastering the intricacies of local SEO and global SEO is vital for achieving online success. By understanding their nuances and implementing effective strategies, you can enhance your website's visibility, attract relevant organic traffic, and outrank competitors in search engine results. Remember to optimize your Google My Business listing, incorporate location-based keywords, build local citations, encourage online reviews, and create targeted content for both local and global audiences. Additionally, prioritize mobile optimization, international website structure, multilingual keyword research, geotargeting, and language targeting to maximize your global SEO efforts.
By investing time, effort, and resources into optimizing your website with high-quality, valuable content, comprehensive strategies, and a user-centric approach, you can position yourself as an authority in your industry and drive organic traffic that converts into loyal customers. Stay proactive, adapt to changes, and consistently refine your SEO practices to ensure long-term success in the competitive digital landscape.
We hope you found this guide helpful. If you need assistance with optimizing your website for search engines, Finest Seo Agency is here to help. Contact us today to learn how we can improve your website's SEO and increase your online visibility.
Related Posts